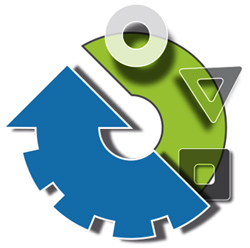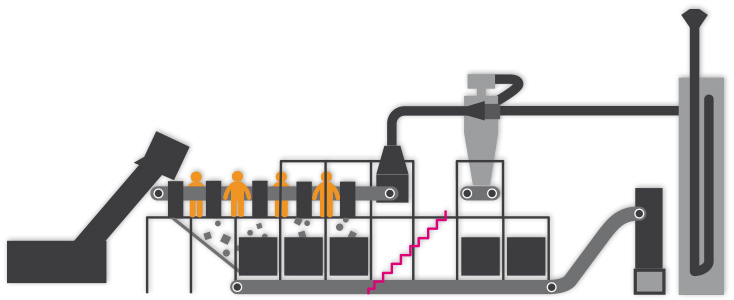 TECNO RICICLO AMBIENTE (TRA) is a first level plant for processing recycled materials. A specialized plant for the storage, selection and treatment of waste, mainly coming from separate waste collection.
TRA is a large waste recycling and recovery plant of the Lazio Region. We are able to treat various types of waste in an environmentally sound way. We represent a safe and competent partner for institutions and companies for waste management and recovery.
Our operating facility consists of an external fenced area of about 2,000 square meters (about 21.500 sq. ft.) for the exchange phases of material and an internal area of 7,000 square meters (about 75.000 sq. ft.) divided in turn into two separate compartments.
The potential and versatility of the TRA system allows to work with several different types of waste, of different composition and origin. The plant operates 24/7 and can process approximately 96 tons of dry material per day, which is an average of about 8 tons per hour.
Great efficiency, safe performance and a particularly robust and highly innovative construction are the distinguishing marks of the TRA system, able to satisfy the most diverse production needs. The plant, devised for intensive use, features highest quality components: from special steel blades, to the anti-wear treatment of the grills of the rotating sieve, from the extraction fans to the powerful magnets that collect impurities and foreign particles.
Each component is resistant and with an optimal life cycle thanks to the use of specific technical measures, such as cooling systems and inverters, which allow a drastic reduction of maintenance.
We have chosen a strategic and favoured position for Central and Southern Italy, focusing on an area that is particularly well served by transport routes in order to ease our customers in reaching the plant and above all to guarantee a double entry mode.
---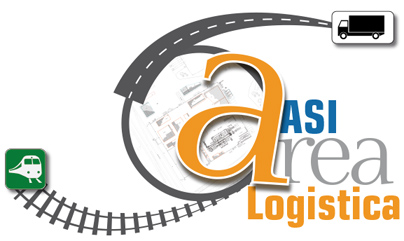 We wish to point out the proximity to the A1 and A24 motorways: the main Italian arterial road. The nearest tollgate is just 6 km away so that customers can then reach us quickly and conveniently via ordinary roads.
Another strong point of our logistics area is the presence of a railway junction, built to serve the numerous neighbouring factories. One of the rails is adjacent to the west side of the TRA structure and is equipped with a dumping platform. Potentially the input and output of the waste to and from the plant could also take place through railway carriages with obvious benefits for the environment, road traffic and operational efficiency, in logistics activities as well as for the advantage in terms of cost reduction.
Another noteworthy element is the positioning of the building in the ASI Area (Industrial Development Area): we are in fact fully within the industrial hub, made available by the municipality, and more than 7 km away from the town.
Institutional brochure (pdf, 3.2 Mb)